Majuli College: A Pedagogic Paradise
Established on September 17, 1962 with a sacred mission of illuminating the river-island with the beacon of education, Majuli College is the premier institution of higher education situated at Kamalabari in Majuli, the only island district of Assam. What necessitated the college to be founded at Kamalabari was the geographical isolation and educational backwardness of the most populous river-island of the world. Connecting it with the mainstream of the country was a challenge in the early sixties. A host of conscious educationists and public activists realized that it could be done only through the pursuit of higher learning. A public meeting was held at Majuli Milan Sangha, Kamalabari in the month of March, 1962 with the sole objective of having a discussion on founding a college to impart higher education to the Majulians. The meeting constituted a steering committee consisting of members from all communities to go ahead with the task. Late Keshabram Borah was made President and Late Krishna Kanta Goswami Secretary of the steering committee. It was a time when devastating floods were posing tremendous threat to their historic endeavour, but, these two illustrious sons of Majuli along with a few devoted persons toured every nook and corner on foot and mobilized public opinion, collected donations for the proposed college. Thus, the dream of opening a college was fulfilled. It is worth remembering that another ideal son of Majuli Atul Chandra Goswami, who was serving as a lecturer in History at North Lakhimpur College then, was kind enough to agree to serve the newly established college as its honorary Principal. He continued his service in this capacity till 1995. We always see to make students useful to the society with a tremendous regard for human values. We aim at making our students self-reliant by cultivating in them scientific outlook free from all sorts of prejudices and superstitions. The stupendous success of our Silver Jubilee Celebrations in 1988 and Golden Jubilee Celebrations in 2013 speaks of glorious tradition of this institution… Read More
From The Principal Desk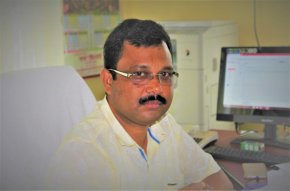 Founded in the eventful year of 1962 thanks to the untiring efforts of a host of educationists and selfless public activists, with a lofty mission of heralding higher education in geographically isolated and economically backward Majuli, Majuli College now stands atop a priceless heritage of more than fifty years of continuous knowledge hunting and dissemination leaving behind a trail of ups and downs in the long span. The oldest institution of higher education in Majuli, the college is doubtless the first choice for innumerable higher education aspirants in the island. Located on a fortified campus surrounded by a few Vaishnavite monasteries called satras and lush-green paddy fields on all its sides, the college has made giant strides in terms of infrastructure development in recent years keeping pace with the demands of time. In addition to providing state-of-the art digitized classroom and library facilities  to the students, the college periodically organizes career counselling sessions, symposia and popular and motivational talks, and has started quite a few job-oriented multi-utility diploma and certificate courses which are designed to help students build a productive career ahead in this age of cut-throat  competition. Xerox and internet facilities have been made easily accessible to them. Besides, the college facilitates education through Distance Learning mode under Krishna Kanta Handiqui State Open University (KKHSOU) and Dibrugarh University both at UG and PG levels. Yet the college has numerous hurdles to grapple with in realizing its vision of securing a place alongside all major institutions of the state and country. With an energetic teaching faculty ever-sensitive to the fast-changing world of education, we are convinced that it will overcome the challenges and succeed in leaving its indelible imprints on the sands of time.
FACILITIES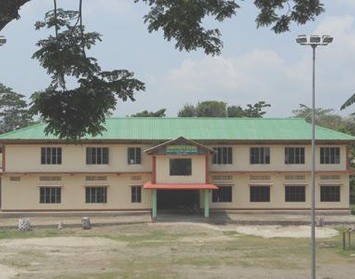 Hostel
The college currently possesses a two-storey Girls' Hostel which can accommodate maximum 36 girls. Girls desirous of hostel accommodation may opt for the same in their application forms for admission. The hostel is placed under the supervision of a...
Playground and Games
Majuli College has a spacious playground measuring an area of three acres of land on the bank of Doriadubi. Outdoor games are held on the playground during Annual College Sports Week. Some of the outdoor games are also held on the campus ground. The ...
NCC/NSS/Scout & Guide
N.C.C. The college has a Senior Divisional National Cadet Corps Army Wing with the strength of 100 cadets (boys & girls) under an N.C.C. officer chosen from the teaching staff of the college. These cadets are given special training in the interest o...